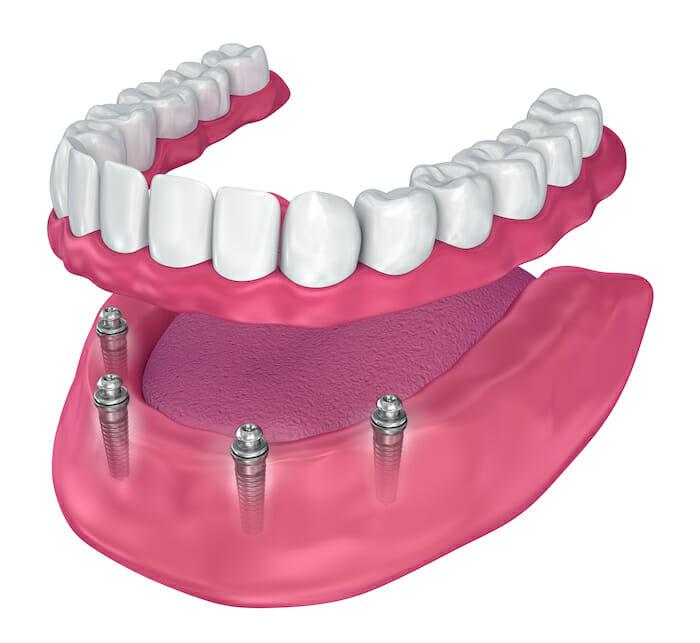 People lose teeth for a variety of reasons. Whether you've lost all or most of your teeth due to injury, illness, or the natural process of aging, there are a variety of options that can restore the look, feel, and function of your smile.
For patients who are missing all or most of their teeth on one or both rows and are looking for a tooth replacement, Steve A. Sato, DDS provides a wonderful solution that offers the affordability of dentures along with the security of dental implants — implant-supported dentures.
What Are Implant-Supported Dentures?
Implant-supported dentures are sometimes called snap-on dentures or overdentures. Like traditional dentures, they are comprised of a regular denture that features a row of artificial teeth fixed to a realistic-looking gum line.
Unlike traditional dentures, implant-supported dentures snap onto dental implants that have been strategically placed in the patient's upper or lower jawbone.
The Benefits of Implant-Supported Dentures
Implant-supported dentures offer patients a variety of benefits:
Look and feel natural
Do not slip around like traditional dentures
Offer superior comfort
Highly durable
Support natural eating, drinking, and speaking
Improve confidence
An affordable option
Thanks to their many benefits, implant-supported dentures have become a highly popular tooth replacement option for patients who are missing all or most of their teeth on either the top, bottom, or both rows.
Am I a Candidate for Implant-Supported Dentures?
Despite the many benefits of implant-supported dentures, they are not the right choice for every patient. To be a candidate for implant-supported dentures, you must also be a candidate for receiving dental implants.
To receive dental implants, you must have good oral hygiene and no current signs of periodontal disease. Additionally, you must be healthy enough to undergo one or more surgical procedures performed under general anesthesia.
If you are not a candidate for implant-supported dentures, Dr. Sato can work with you to determine an alternative tooth replacement option. Thanks to the many advancements of modern dentistry, there are a variety of treatment options available to our patients, including comfortably fitting traditional dentures, dental bridges, and more.
Restore Your Smile Today!
To learn more about implant-supported dentures, all-on-4 tooth replacements, dental implant surgery, and all of the comprehensive restorative dentistry treatments available to you, we welcome you to contact our office at Steve A. Sato, DDS.
We can schedule you for an examination and tooth replacement consultation with Dr. Sato and help you determine the best solution for restoring your confidence along with your gorgeous smile.