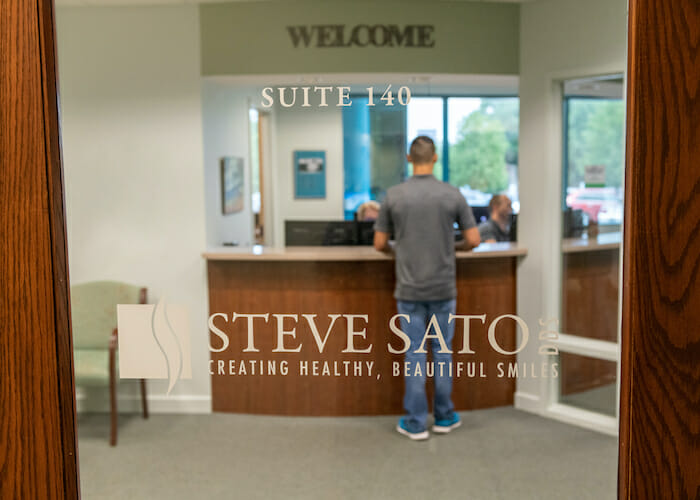 The entire team at Steve A. Sato, DDS, is pleased to welcome you to our Dayton dental practice. We strive to improve our services and the patient experience in our office to offer our patients excellence in all aspects of dental care.
Our staff wants you to feel welcome and well cared for during your time with us. From your first "hello" at the front desk and throughout your time sitting in the dental chair, we strive to make your experience pleasant. We provide exceptional dental care and attend to each patient with patience, expertise, and attention to detail.
What You Should Know About Your First Visit to Our Office
Your first visit to our dental practice is very important because it is our first opportunity to care for you, get to know you, and discuss your dental health history and goals.
Each patient's first appointment consists of a comprehensive dental examination.  This includes taking any necessary X-rays, periodontal charting, an oral cancer screening, as well as discussing any treatment needs.  Patients will often not have a cleaning at their initial examination, but will be rescheduled soon afterward for their first hygiene appointment.
To ensure a successful and efficient appointment, we request that you arrive at our office 20 minutes early so you will have time to check in with our front desk, complete a patient registration form, and fill out a medical history form.
These forms can also be downloaded from our website and completed before your scheduled appointment time.
Appointments are available during our regular business hours:
Monday, Tuesday, and Wednesday 8 a.m. to 4 p.m.
Thursday 8 a.m. to 3 p.m.
Our offices are located in the blue-green-colored Wright Health Building at:
1222 S. Patterson Boulevard Dayton, OH 45402
What To Bring to Your First Appointment at Our Dayton Dental Clinic
We request that you have your dental records and most recent dental X-rays forwarded to our office from your current dental clinic before your appointment to enable Dr. Sato and our team to provide you with the most thorough care.
If another dentist or healthcare provider has referred you to our practice, we also request that you bring a copy of your patient referral form or a letter from your healthcare provider.
Additionally, to ensure everything goes smoothly during your first billing cycle with our office, we request that you bring a copy of your dental insurance card or information. We accept all PPO insurance plans and are in-network with Delta Dental Premier, Superior Dental Care, and the Dental Health Alliance.
We Look Forward To Helping You Achieve Optimal Oral Health
We are so pleased that you have decided to join our patient family at Steve A. Sato, DDS, and we look forward to establishing a positive relationship and providing you and your family with exceptional dental care for life.
If you would like to learn more about our dental care services or if you have questions about your upcoming appointment with Dr. Sato, we welcome you to contact our office at (937) 226-1400. We look forward to seeing you smile!