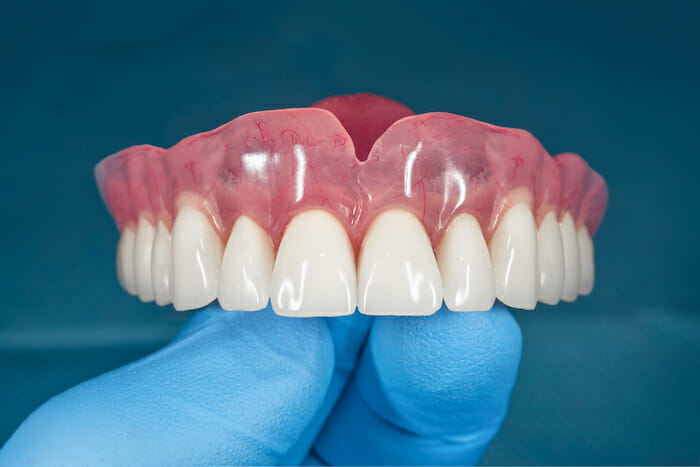 For patients who are missing all or most of their teeth on the top, bottom, or both rows, dentures can provide a simple tooth replacement option that's both effective and affordable.
To find out if dentures may be a good solution for your smile's needs, we encourage you to talk with the team at Steve A. Sato, DDS to find out if dentures might be the right teeth replacement option for you.
What Are Dentures?
Dentures are a type of dental appliance designed to replace entire rows of missing teeth. Dentures slip into the mouth and should fit snugly over the bottom row of gums and/or against the hard palate on the top of the mouth.
Types of Dentures Available at Steve A. Sato, DDS
In addition to all of our tooth replacement treatments, our dental clinic offers a variety of denture options designed to meet our patients' needs.
Full Dentures
Full dentures replace an entire arch of teeth on either the top or bottom of the mouth or both.
Partial Dentures
Partial dentures are designed to replace only a portion of a row of teeth that are missing, rather than the entire arch.
Implant-Supported Dentures vs. Removable Dentures
Dentures can either be designed to be removable or fixed in the mouth and supported by dental implants.
Removable dentures have smooth plastic on the underside that creates a suction, fixing them inside the mouth. Additional fixatives can be used with removable dentures to create a better seal and more stable fit.
On the other hand, implant-supported dentures snap onto dental implant abutments that are strategically placed in the mouth. While these dentures can be removed for cleaning and maintenance, they offer patients a more natural and comfortable fit than traditional, removable dentures.
We offer both options to our patients. Regardless of the type of dentures you choose, Dr. Sato will work with you to ensure you feel comfortable and confident in your dentures.
How to Care for Your Dentures
Like natural teeth, dentures require daily care to extend their lifespan while also keeping your gums healthy.
Dentures should be removed each night, brushed with a gentle denture brush, and soaked in an overnight denture rinse. After removal, we also recommend gently wiping down your gums with a soft, wet washcloth.
What To Do If Your Dentures Slip or Feel Uncomfortable
Custom-made dentures should fit you well. If yours feel uncomfortable or are moving around more than you think they should be, we encourage you to schedule an appointment. Whether you have a new set of dentures or have noticed a change in the way your current dentures fit, Dr. Sato is here to help.
Are Dentures Right for You?
Our dentist can work with you to determine the best tooth replacement option to meet your lifestyle, budget, and needs. If you decide that dentures are the right choice for you, Dr. Sato will work with you to ensure your dentures look natural, work well, and have a comfortable fit.
If you're missing all or most of your teeth, we encourage you to schedule a smile restoration appointment at Steve A. Sato, DDS today.