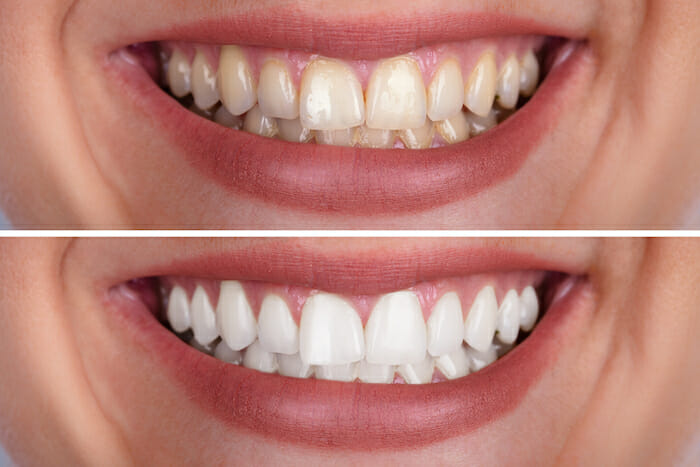 One of the simplest ways to improve the look of your smile is by making it brighter and whiter. At Steve A. Sato, DDS, we can help you enhance your smile with professional teeth whitening treatments.
Why Do Teeth Need Whitening?
While there is no medical reason to whiten your teeth, having a brighter smile can enhance your appearance and boost your confidence.
Over time, teeth can become naturally discolored and stained as a result of consuming certain foods and drinks and using tobacco. Additionally, certain medications and medical conditions can also change the color of your teeth.
Do Over-the-Counter Teeth Whitening Products Work?
There are many teeth whitening products available over-the-counter to use at home. These include whitening toothpaste, mouth rinses, gels, strips, lights, trays, and more. These teeth whitening products are effective, but they do not whiten teeth as quickly or completely as professional teeth whitening treatments.
Does Teeth Whitening Have Any Negative Side Effects?
It's safe to whiten your teeth with over-the-counter and professional products. These products can sometimes cause some minor, temporary teeth sensitivity following treatment. To minimize sensitivity, we recommend following product instructions as closely as possible and check with Dr. Soto before using a product at home.
Additionally, professional whitening treatments come with desensitizing agents designed to minimize sensitivity as a result of teeth whitening.
Professional Teeth Whitening Options at Steve A. Sato, DDS
Depending on your desired results, time frame, and preference, our practice offers both in-office and at-home teeth whitening treatment options to patients looking to get a whiter, brighter smile.
In-Office Whitening With Zoom
No matter how bright you want to go, you'll have whiter teeth after just a single treatment with the Zoom teeth whitening system. Our in-office whitening treatment can help patients whiten their teeth by up to eight shades in a single office visit.
Whitening treatments require a different amount of time depending on the severity of stains and your whitening goals.
At-Home Whitening With Opalescence Go
If you would prefer to whiten your teeth in the comfort of your own home, then we can provide you with Opalescence Go. This teeth whitening system uses take-home trays and personalized whitening instructions to help patients achieve their desired look.
Schedule an Appointment for Professional Teeth Whitening in Dayton
If your teeth are stained, discolored, or simply not as pearly white as you would like them to be, then we welcome you to schedule an appointment to have your teeth professionally whitened with Dr. Sato. We can help you achieve the exact shade of white to best complement your features in as little time as possible.
To learn more or schedule your appointment, contact our office today.