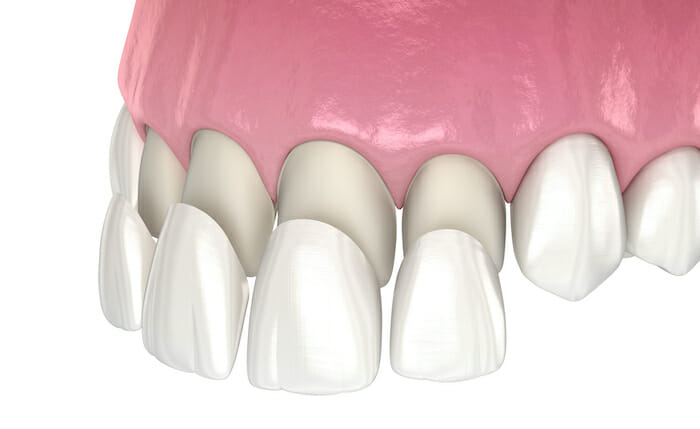 Whether you have stains, damage to your teeth, or simply want to boost your confidence by enhancing the look of your original smile, then porcelain veneers might be a great option for you!
The team at Steve A. Sato, DDS is proud to offer veneers in our state-of-the-art Dayton dental clinic.
What Are Veneers?
Like the wood veneers that cover cabinets, porcelain veneers are thin shells designed to cover the front surface of a tooth. They are tooth-shaped and tooth-colored to create a natural look and improve upon the current appearance of your smile. Porcelain veneers are a permanent cosmetic treatment and must be maintained once placed.
Each set of veneers is uniquely designed and created to help each patient achieve their desired look. Our dentist can use digital imaging and porcelain veneer samples to help you determine the best color, shape, and size of veneers to complement your features.
What Concerns Can Porcelain Veneers Correct
Porcelain veneers can be used to completely make over the look of a patient's smile or to correct the minor imperfections of individual teeth.
Veneers can cover up and correct the appearance of the following issues:
Cracked, chipped, or broken teeth
Misshapen or unusually shaped teeth
Minor alignment issues
Tooth gaps
Discoloration and stains
Excessive wear
Porcelain veneers can also provide some comfort from overly sensitive teeth.
The Process of Getting Veneers
Initially, the veneer application process starts with a consultation during which we determine your smile goals and the look you're hoping to create. We then take a 3D scan of your teeth before ordering your new set of veneers to ensure they are the proper shape and size to fit your teeth and complement your features.
To place veneers, Dr. Sato must first shave down the front surface of the teeth. This enables a proper fit and allows the veneers to bond securely to the teeth. The veneers are then permanently fixed to your teeth using special dental cement.
Are Veneers Right for Me?
Veneers are a great option for patients who have purely cosmetic concerns with the appearance of their teeth.
Since veneers only improve the look of teeth without providing any support or restorative treatment, they are not a good option if you have damaged teeth that threaten the overall structure or health of the teeth.
In cases where both a tooth's appearance and structure are compromised, a dental crown might be a better treatment option if the natural tooth is savable. If the natural tooth cannot be saved, then tooth extraction and a dental implant or bridge might be the most appropriate treatment plan.
It's important to remember that veneers are permanent, and you will need to maintain them and possibly repair them over time.
Start the Path to a Brighter Smile Today
To find out if porcelain veneers or another type of cosmetic dentistry treatment is the right option to improve the look of your smile, we welcome you to schedule a cosmetic dentistry consultation with our dentist. We can evaluate your dental health, talk with you about your smile goals, and help you determine the best treatment options to get the smile you've always dreamed of.
Contact Steve A. Sato, DDS to start your journey to a more confident smile and schedule your appointment today.