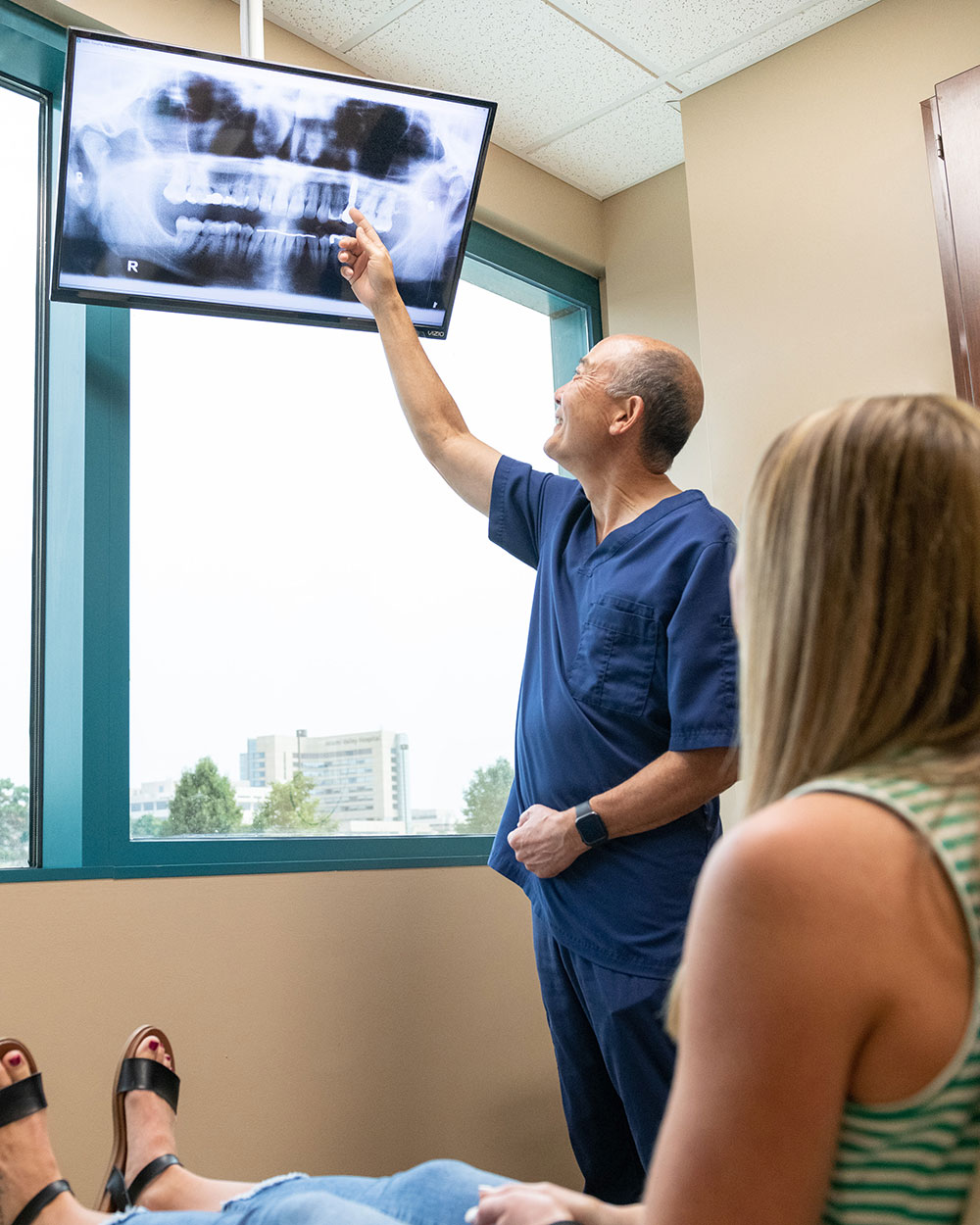 When oral surgery is needed, it's not uncommon for a patient's general dentistry provider to recommend them to an oral surgeon at another clinic location. However, patients at Steve A. Sato, DDS, have access to oral surgery services with a professional, experienced oral surgeon right here in our Dayton dental clinic.
Specialty and Surgical Services With Our Visiting Prosthodontist
When patients require specialty care or oral surgery, our dentist, Dr. Sato, works closely with our visiting prosthodontist.
Dr. visits our practice monthly and performs all of our oral surgeries, including IV-aided tooth extractions, in the familiar and comfortable setting that our patients know and trust.
Oral Surgery Services at Steve A. Sato, DDS
A dental implant is the most popular option for replacing one or more missing teeth — whether you need a single implant, multiple implants, or dental implants for all-on-4, implant-supported dentures.
Bone Grafting

To successfully place a dental implant, a patient must have sufficient jawbone mass to support the implant's anchor. If a patient's jawbone is not strong or large enough to support a dental implant, the patient might first need a bone graft to strengthen the jawbone prior to implant placement.
Sinus Lift
A sinus lift or sinus augmentation is another preparatory procedure that might be necessary before receiving dental implants.
Tooth Extraction

We perform a variety of tooth extraction procedures including single tooth, multiple teeth, and third molars (wisdom teeth) extractions.
Depending on the patient's preference and the extent of the tooth extraction at hand, we might recommend scheduling the extraction as an IV-assisted procedure with general anesthesia to reduce pain and stress.
Ridge Augmentation
A ridge augmentation might be necessary or recommended following a tooth extraction procedure. This surgery is designed to restore the natural contour of a patient's jawbone and gums after having one or more teeth removed.
What To Expect When You Need Oral Surgery or Specialty Care
If you require an oral surgery or another specialty service, Dr. Sato first refers you for specialty care and discusses possible providers with you and other local oral surgeons who practice outside of our clinic.
We then have a treatment planning consultation to review your treatment plan, go over insurance estimates, and determine all financial agreements for payment. We also schedule your initial treatments at this time.
If any additional medical paperwork or diagnostics, such as x-rays or 3D scans are needed, they will be taken during the treatment consultation prior to your treatment and final restoration with Dr. Sato.
Schedule an Oral Surgery Consultation Today
If you require oral surgery, we welcome you to schedule a treatment consultation with Dr. Sato and our office's patient care coordinator. We can help you determine the best plan for your treatment, schedule an appointment, and help you achieve all your smile goals.
To learn more about the specialty services available at our office, or if you have questions regarding an upcoming procedure, we welcome you to contact our team today.