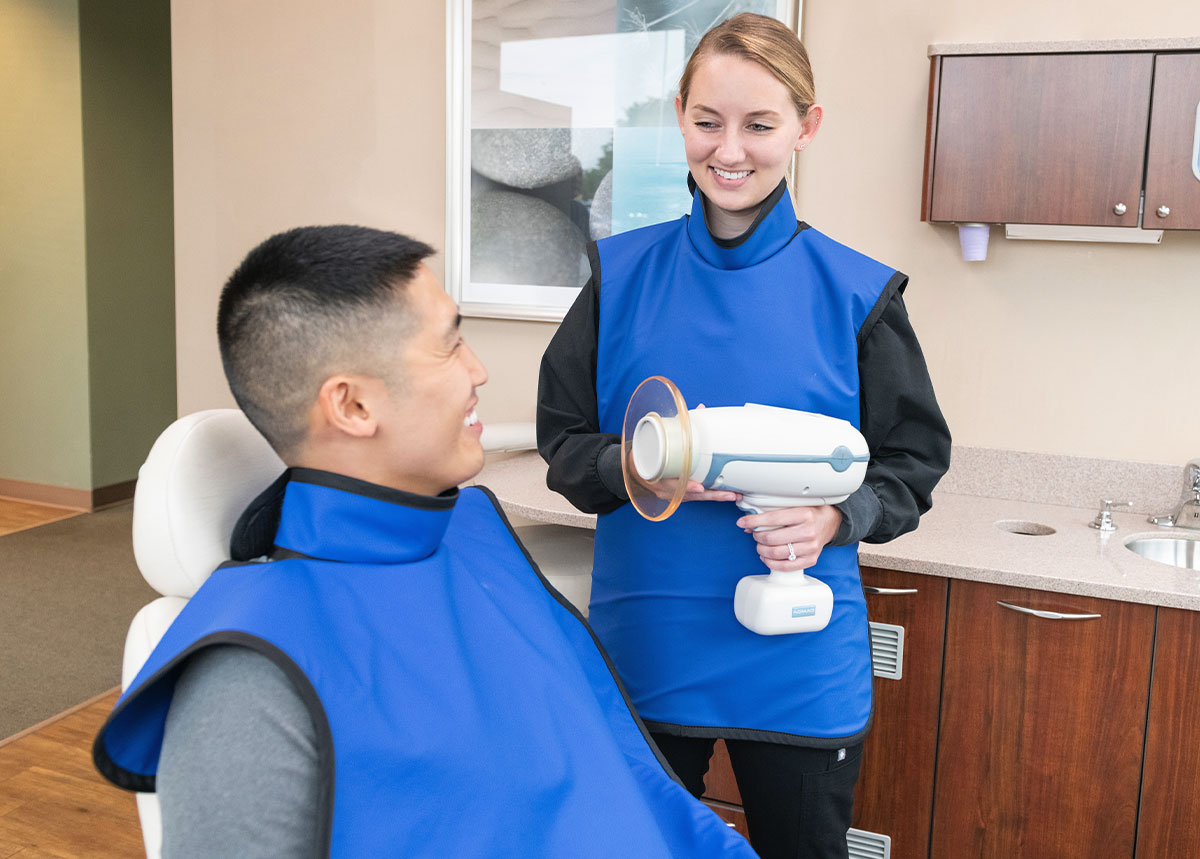 At Steve A. Sato, DDS, our number one priority is ensuring each of our patients has a positive experience during every visit to our dental clinic. In addition to caring for each patient with attention to detail and a gentle touch, we strive to create better patient experiences and treatment outcomes by keeping our practice equipped with the latest dental tools and technology.
Improving Treatment Outcomes With the Latest in Dental Technology
Digital X-Rays
X-rays allow our dentist to evaluate a patient's internal structures and detect issues that might be occurring inside teeth or below the gumline. We use hand-held, digital x-ray technology from Nomad in our office.
Digital x-rays not only require less radiation exposure than traditional film x-rays, but they are also immediately available for evaluation and easily shareable with digital files.
Digital Impressions
Our patients have access to superior diagnostics and treatments with our Morita digital cone-beam computed tomography (CBCT) scanner. This machine produces 3D images of the internal structures of a patient's head, sinuses, neck, and oral cavity.
Intraoral Camera
Our intraoral camera takes crystal-clear images of the inside of a patient's mouth. This helps us improve patient education and explanation of treatments and document a patient's dental health journey in our files.
CAD-CAM Technology
We use a Planmeca PlanMill scanner for computer-aided design and manufacturing to digitally scan patients' mouths for seamless dental restorations. We use this technology to create custom-made dental appliances like caps and crowns in-house.
ADS Extraoral Evacuation Suction Systems
Each of our patient treatment stations is equipped with an ADS extraoral evacuation suction system. This removes aerosols from the air, keeping the air clean and free from viruses and bacteria during dental cleanings, examinations, and treatments.
Advanced Cavity Detection
The CariVu caries detection device uses near-infrared transillumination to illuminate and aid in the detection of tooth decay, caries, and cavities during regular dental checkups.
Advanced Oral Cancer Screening
Our office is equipped with the tools and knowledge to identify cancerous tissues and precancerous lesions to better detect the earliest signs of oral cancer in our patients.
Schedule Your Next Checkup in Our State-of-the-Art Dental Clinic
To learn more about the advanced tools and technology we use in our dental clinic, we welcome you to visit our office or schedule your next dental cleaning and examination at Steve A. Sato, DDS.
We always welcome new patients to our clinic, and we invite you to experience a new level of care in the dentist's chair.