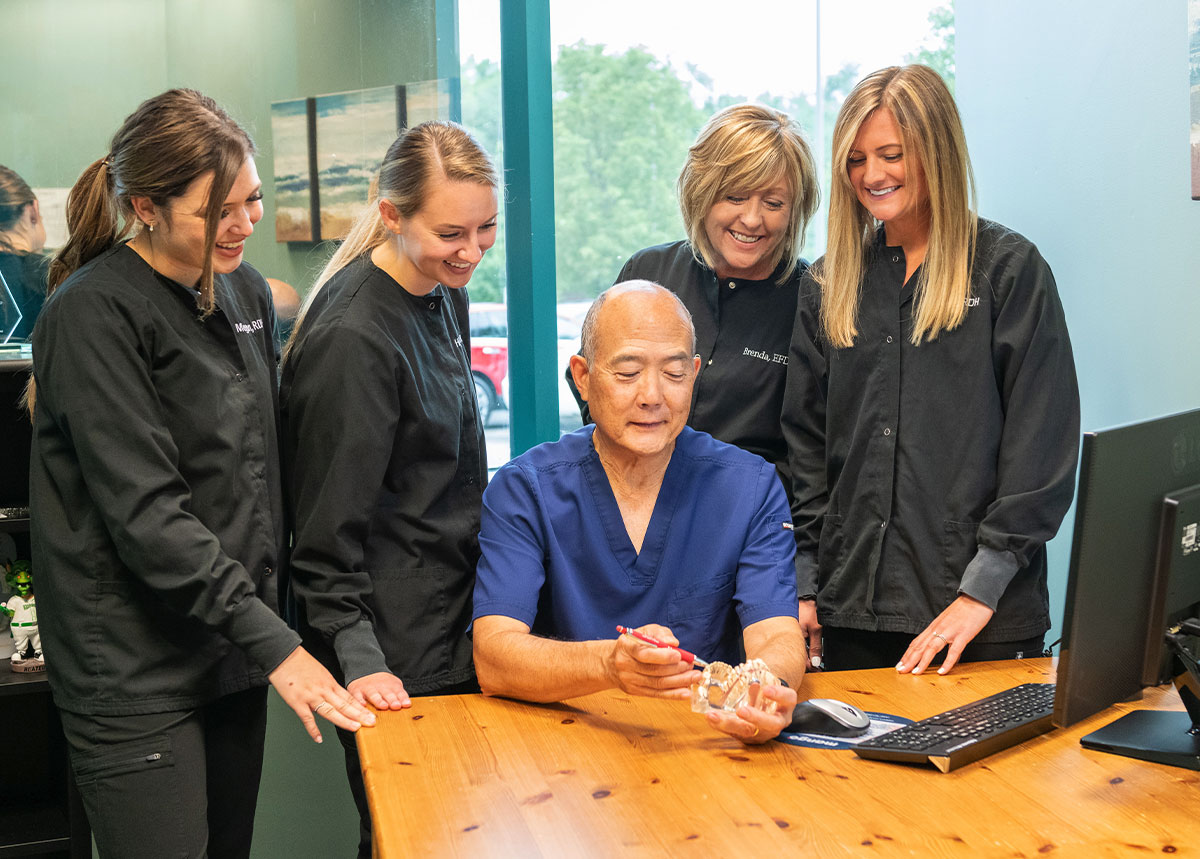 Dental hygiene and regular dental exams are two of the most important steps in keeping your teeth and gums healthy while preventing oral health problems.
At Steve A. Sato, DDS, our team is committed to providing our patients with the best preventive dental care available, including routine dental examinations and prophylactic cleanings.
What Is Dental Hygiene?
Dental hygiene is the practice, process, and techniques that you use to keep your teeth and gums clean and healthy. Dental hygiene includes brushing, flossing, mouthwash, and professional dental cleanings with our team.
What To Expect During a Routine Dental Exam at Steve A. Sato, DDS
Each dental appointment begins with a quick patient consultation, We discuss any changes you may have noticed since your last appointment and talk with you about any other questions or concerns you might have regarding your dental care.
One of our experienced dental hygienists then cleans your teeth and gums, using special tools and a gentle touch to remove the built-up plaque, tartar, and dental calculus that can lead to periodontal disease and other oral health problems. We might also recommend applying sealants and/or a professional fluoride treatment to fortify your tooth enamel against harmful bacteria and acids.
Dr. Sato then joins us to examine your teeth, gums, oral cavity, and adjacent anatomy for signs of any potential problems such as cavities, tooth decay, periodontal disease, infection, and signs of oral cancer. This involves a visual examination in addition to physically palpating the soft tissues of your mouth, cheeks, and neck to feel for lumps, bumps, or other abnormalities.
If you are due for dental x-rays, we also take them at this time.
We then talk with you about any unusual signs or symptoms we detect that indicate cavities or other issues and recommend the most appropriate treatment.
When To Visit the Dentist for a Routine Dental Appointment
We recommend patients visit us for regular dental cleanings and examinations every six months to ensure proper maintenance and the early detection and treatment of oral health problems as they develop.
How To Care for Your Teeth and Gums Between Appointments
Taking care of your teeth and gums between professional dental cleanings and exams is the best way to prevent dental problems from developing. In addition to visiting the dentist twice a year, you should brush for two minutes and floss at least two times each day.
During your routine dental appointment, our team also talks with patients about their at-home oral hygiene regimen. Whether you have an oral appliance or a full set of natural teeth, we want to ensure that you know about all the tools and proper techniques that are available to help you care for your teeth at home.
Schedule Your Next Dental Checkup With Our Dentist in Dayton
If you're due for a dental examination and cleaning, don't put off getting the care you need any longer. We welcome you to contact our office to schedule an appointment, or you can request an appointment through our website.
The entire team at Steve A. Sato, DDS looks forward to helping you achieve a healthier smile!