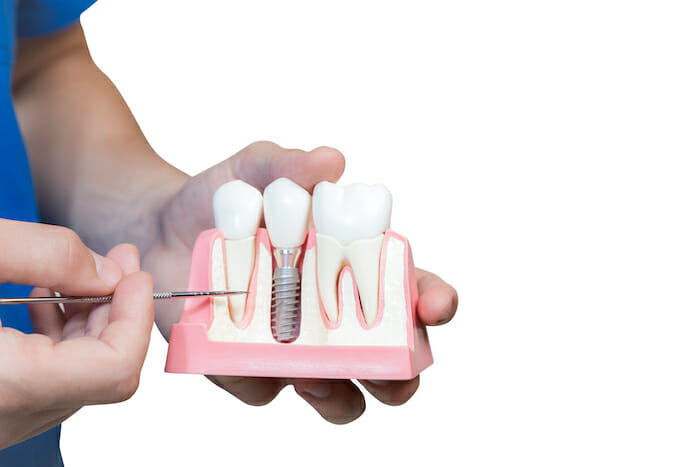 Dental implants are the best option for replacing missing teeth because they look, feel, and function just like a natural tooth. Plus, dental implants are strong and can last for several years. Since they are so long-lasting, however, your dental implants might eventually need to be restored.
Our team at Steve A. Sato, DDS is pleased to provide our patients with complete dental implant care from consultation and placement to ongoing care and restoration.
What Is Dental Implant Restoration?
Dental implant restoration is a dental treatment designed to restore your dental implant to its original form and function.
A dental implant restoration typically only focuses on replacing the cap or crown portion of a patient's dental implant because – as long as you maintain good oral health and avoid gum infections – your dental implant anchor should remain permanently, firmly in place.
To restore an implant, we simply manufacture a new crown for your dental implant, remove the old one, and cement the new crown to your dental implant's abutment. Following the replacement of the crown, your dental implant should feel like new.
How Can I Tell If My Dental Implant Needs a Restoration?
Patients typically come to us for a dental implant restoration because they notice that the crown feels loose, has cracked or chipped, or because it might be worn down to the point that their bite no longer feels normal or comfortable.
Is Dental Implant Restoration Painful?
Most patients associate dental implants with the surgical procedure needed to initially place implant anchors in the jawbone. A restoration, however, requires no surgery and no pain because implant restoration does not affect the dental implant's anchor.
Don't Wait Any Longer! Schedule Your Restoration Today
If you've noticed any changes in the way your dental implant looks or feels in your mouth, we encourage you to contact our office to schedule an appointment for an implant restoration. Our dentist can then evaluate your dental implant's condition and your oral health before replacing your implant's crown.