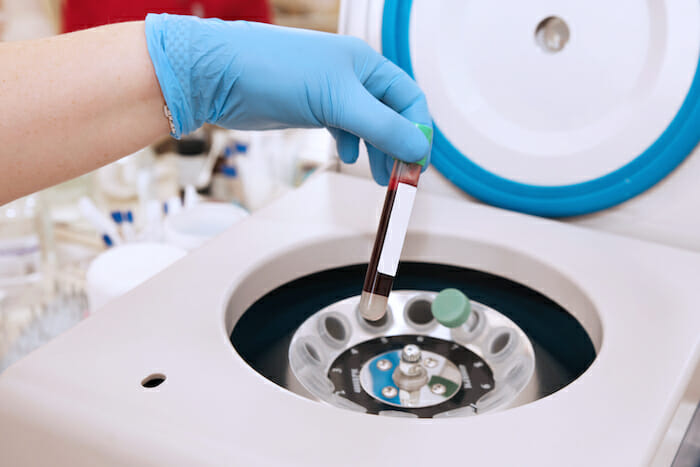 Platelet-rich plasma (PRP) treatment has been in use in conjunction with a variety of surgical procedures to help accelerate recovery, reduce post-operative pain, and improve patient outcomes since the 1990s. Recently, the use of PRP treatment has become increasingly common as a complement to oral and maxillofacial surgery, as well.
What Is Platelet-Rich Plasma?
Platelet-rich plasma (PRP) is the liquid component of blood primarily composed of water and proteins called growth factors. PRP and its growth factor proteins play an integral role in triggering and facilitating the body's healing response.
How Does PRP Treatment Work?
In a PRP treatment, you'll first have a small amount of blood drawn. Then, platelets are extracted directly from the blood by spinning it in a centrifuge to separate the platelet-rich plasma from the red and white blood cells.
During oral surgery, your PRP is then injected or applied at the surgical site where it stimulates your body to generate and release growth reparative cells. These reparative cells accelerate the healing process by aiding in the regeneration of soft tissues and bone and increasing vascularity in tissues as they heal.
PRP treatment is completely safe, since it makes use of your own platelet-rich plasma. Additionally, PRP treatment is convenient. The blood draw, plasma extraction, and application all occur in-office during your oral surgery appointment, meaning you don't have to spend any additional time in the dental office to prepare for a PRP treatment.
The Benefits of PRP Treatment
PRP treatments have been shown to improve the post-surgical recovery process by:
Accelerating the healing process
Reducing post-surgical pain
Promoting the regeneration of soft and hard tissues
Are You a Candidate? PRP Treatment Applications
PRP treatment can be useful if you are scheduled to undergo any type of oral surgery or maxillofacial surgery including:
Tooth extraction
Bone grafts
Dental implant placement
Sinus lifts
Ridge augmentation
Cyst removal
Whether you're scheduled for a tooth extraction or are beginning the process of preparing your jawbone to receive a dental implant with graft, PRP treatment could shorten your recovery time, reduce pain, and improve your surgery outcome by helping to heal your body's tissues and encouraging the growth of new, healthy bone matter and soft tissues.
Learn More About PRP Treatment at Our Dayton Dental Practice
If you have an upcoming oral surgery scheduled at Steve A. Sato, DDS, we welcome you to talk with our dentist about whether PRP treatment might be right for you.
From tooth extraction, bone graft, dental implant placement, or another procedure, PRP treatment could help accelerate your post-surgical recovery and improve your surgery outcome as you heal.
To learn more or schedule a consultation, we welcome you to contact our office today.