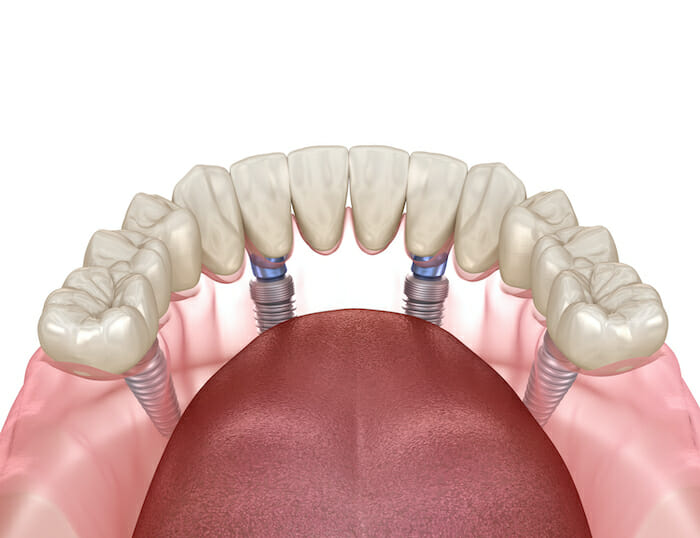 The team at Steve A. Sato, DDS understands that missing all or most of your teeth can be a real burden. It not only changes the way you look but also makes it difficult to eat, drink, and speak normally.
While dentures are a long-standing, time-tested solution for replacing entire rows of a patient's missing teeth, they certainly are not an ideal solution. As anyone who has ever worn dentures knows, they can be uncomfortable, unstable, and tricky to get used to.
All-on-4 is a simple solution that combines the stability and natural feel of dental implants with the ease of a full denture.
What Is All-On-4?
All-on-4 is a popular tooth replacement option for patients who are missing all or most of their teeth. It consists of a denture that is permanently fixed to four dental implants — or eight dental implants if replacing both the top and bottom rows of teeth.
All-on-4 offers the stability, superior function, and natural look and feel of dental implants that can replace all of a patient's teeth after receiving only four dental implants.
Although all-on-4 is slightly more expensive than traditional dentures and requires a lengthier process, all-on-4 provides patients with superior function and feels much more natural in the mouth.
Is All-On-4 the Right Tooth Replacement Option for Me?
All-on-4 is recommended for patients who are missing all or most of their teeth on the top of the mouth, the bottom of the mouth, or both.
Since all-on-4 involves dental implants, you must also be a candidate for dental implant placement. This means being healthy enough to undergo surgery under general anesthesia and having generally good oral health (no current signs of periodontal disease).
What to Expect When Getting All-On-4
Since all-on-4 requires the placement of dental implants, the process can be fairly lengthy. It begins with a consultation, jawbone assessment, oral health assessment, and a 3D oral scan to map out the structure of your mouth and design your all-on-4 denture.
You then begin the process of having implants placed. Depending on your jawbone, this might begin with a bone grafting procedure and recovery period.
Once your jawbone is an adequate strength and size to accommodate dental implants, we then schedule the implant placement procedure. This surgery is followed by a healing period when the dental implant anchors osseointegrate with the jawbone.
Once healed from the anchor placement, another appointment is scheduled to permanently affix your new denture to the dental implants. During this appointment, we also provide you with education regarding ongoing care and maintenance of their all-on-4 denture.
Schedule a Tooth Replacement Consultation at Steve A. Sato, DDS
If you're missing all or most of your teeth and want to restore your smile to its original look, feel, and function, we encourage you to schedule an all-on-4 consultation at Steve A. Sato, DDS. We can talk with you about whether all-on-4 is right for you and discuss a variety of additional tooth replacement options to determine the restorative dentistry treatment that can best help you achieve your smile goals.